Project Management
---
Our focus: outcome-oriented pragmatism

For all classic and agile applications, we have our own tools taken from practice for use in practice

All consultants are trained internally as well as externally and many of them are experts (of PMI, SCRUM,..)
---
"Show us how your project begins, and we will tell you how it ends"
Project management is somehow everything. Anyone can do it. Everyone has it. And if something does not work, project management is often to blame.
Consulting business is project business. We are always facing the challenge to ensure our (and therefor the customer's) success with professional, efficient, and pragmatic project management.
Customer relevance
As an analogy to the VUCA idea, our customers' projects are more volatile, unmanaged, complex, and ambiguous. On the one hand, agile methods, and ways of thinking from the field of software development are gaining ground. On the other hand, the classic project management becomes more standardized and normative with consistent hierarchical structure- and process-organizations.
It is therefore essential to support each project with the best and most suitable project management methods and tools. These are mostly hybrid approaches customized from classic and agile project management to ensure maximum project success.
We also transfer our experience to project management systems and offices. Furthermore, we are offering best-rated project management trainings and project leader coachings.
Our consulting services
Project management in complex customer projects
Agile project management (SCRUM, Kanban…) with trained masters / moderators
Project leadership
Multi-project management
Program management
Project management assessment for companies and divisions
Concept and implementation of a project management system
Design and implementation of a project management office
Project management training
Project manager coaching
The approach of Drescher Consulting GmbH
Prior to the start each project is evaluated with the project assessment, analogous to the KUKIES method, based on complexity and importance. This tayloring results in the selection of the appropriate set of methods from the "DCG-PM-Suite", such as stakeholder analysis, scheduling, work package planning and risk management. This will be mutualized with all participants in the project kick-off. And then controlled and reported in a predefined process. The project is concluded with a workshop including lessons learned.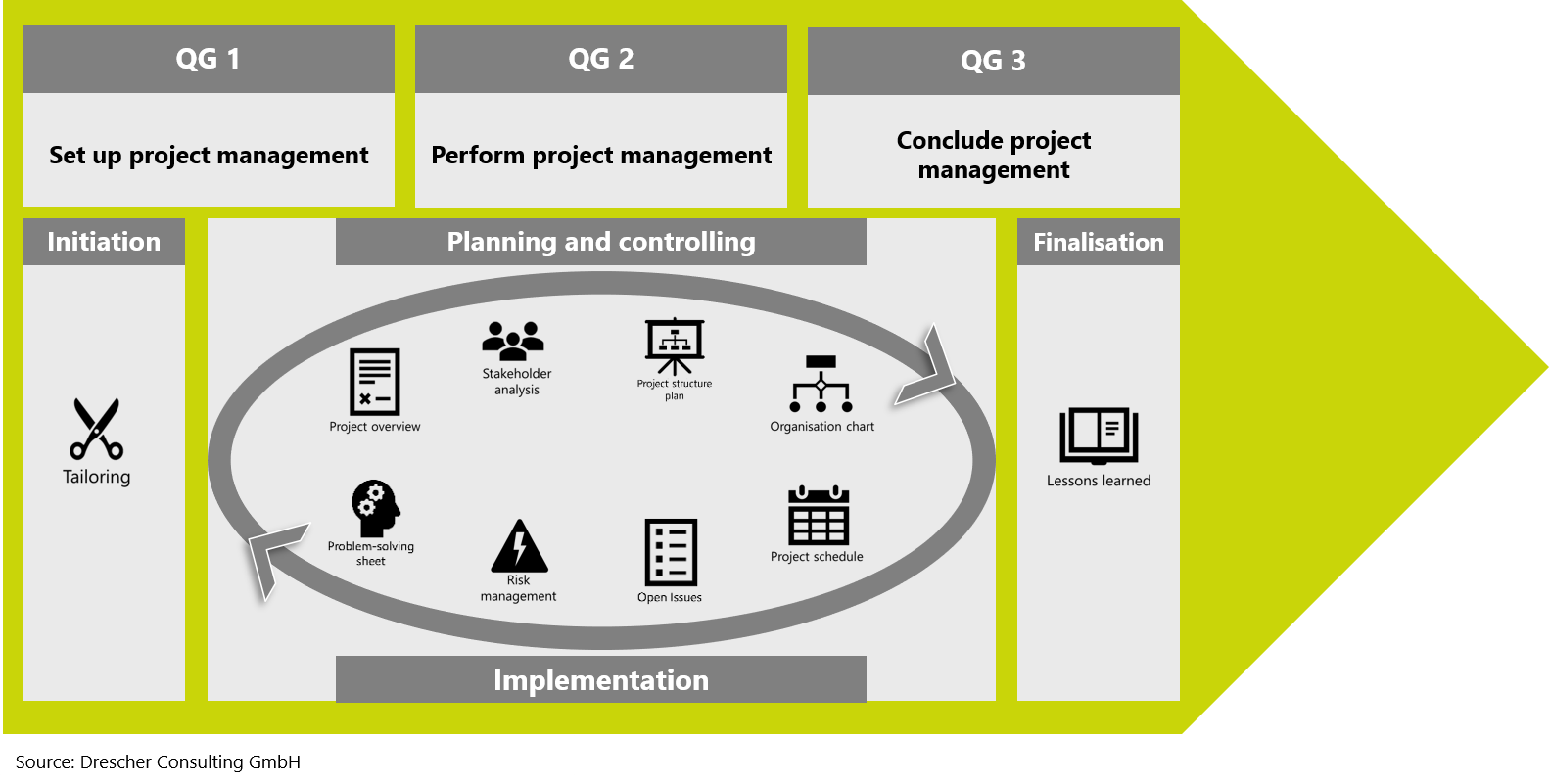 Why Drescher Consulting
Project management is the operating system of DCG and for us the enabler for project and customer success. Our focus is on pragmatism and efficiency. We use our own toolbox, the "DCG-PM-Suite", which is also used to plan and control internal projects. Thus, the maximum PM competence and experience from tens of 100 projects flows into every project. Furthermore, our team consists of many trained PMI experts as well as SCRUM Masters and moderators.