Quality Management
---
Quality is the degree to which requirements are met
We enable you to define, plan, implement and secure your Q-requirements along the entire value chain in a target- and outcome-oriented way
Quality is no coincidence – quality can be planned!
---
The magic triangle: time, cost and quality
It is a major challenge to plan the design of this triangle. We help you to define and implement it in a way that quality, costs and timelines reflect and fulfill the needs of the project and the customer.
In our experience, the balance of the triangle does not only fail due to suboptimal definition, but also due to suboptimal qualification, control and supervision.
The quality of products and services has turned into a strategic competitive factor
As a result, many companies are constantly facing new challenges in terms of quality planning and hedging strategy.
Quality can be planned – preventive quality management saves resources, enables cost savings and the targeted achievement of milestones. A good, practical, understandable corporate quality strategy integrates every employee and shapes the "quality mindset".
Consulting services of DCG in quality management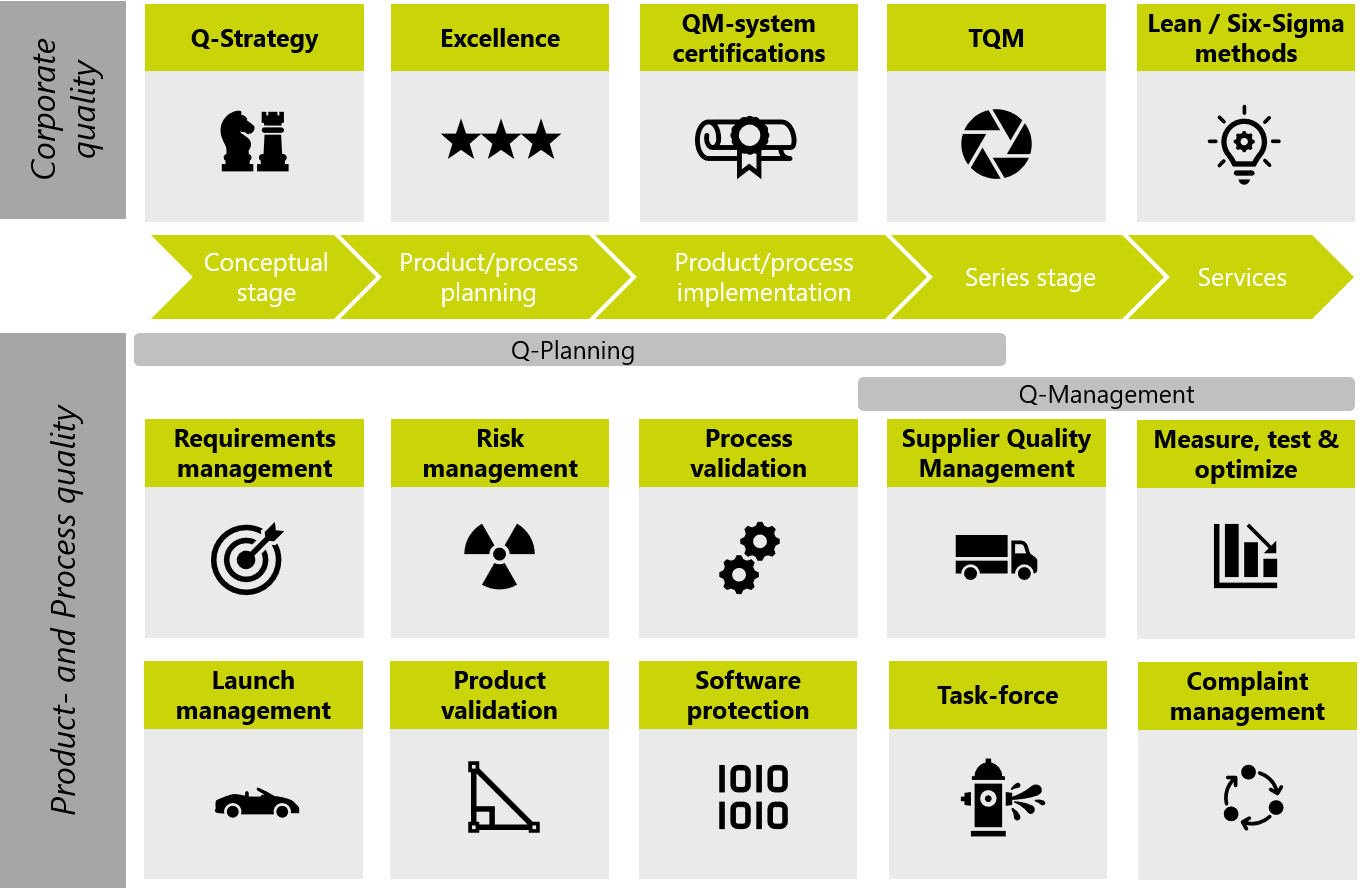 Corporate Quality
Q-Strategy
Excellence
Improvement program for excellence
TQM, Lean- and Six-Sigma methods
QM-system certifications
Preparations for ISO 9001:2018 or IATF 16949 certification
Q-planning of product and process quality
Requirements management
Specifications management
Change management
Launch management
Design & Process validation planning
Launch management
Maturity protection
Product validation
(Initial) sampling document inspection (EMPB inspection) as a service
Process validation
Capacity releases
Proof of serial capability
Process audits (e.g. according to VDA 6.3 by certified auditors)
Measurement system analysis (MSA) / Gauge approval
Supplier Quality Management (SQM)
Purchased part quality planning
Analysis of supplier potential
Supplier management
Supplier development
Approval Audits
Initial sampling document inspection (EMBP inspection) as a service for purchased parts
Risk management
FMEA moderation & review
Risk assessments
Software protection
Q-control of product and process quality
Supplier Quality Management (SQM)
Displacement
Requalification
Task-Force
Crisis management
Resident task force activities
Quality firewall
Complaints management
8D-management
Complaint management
Measure, examine and optimize
Our approach is standardized and customized
Comprehensive inventory and state analysis under consideration of the customer ecosystem
Determination of a needs-oriented implementation plan
Customized solutions for a sustainable implementation – our consultants get involved and bring the necessary hands-on mentality
Monitoring and control in the daily operative business for continuous improvement of quality processes
Why Drescher Consulting
We manage our projects in a goal-oriented and passionate way. Our consultants are highly qualified. Customer and quality are paramount to us. We have many years of management and implementation experience in different industries, phases, projects and countries.
Extract of our project references
OEM – Q-planning
Quality responsibility for purchased parts of critical suppliers for all KEFAG areas and senior quality planning
Representation of the purchased part quality department in status and escalation meetings (e.g. steering committees and boards)
Control of "1st level response" and integration of critical purchased parts in the building plant
Escalation/de-escalation, development and support of critical suppliers, as well as initial sample approval, process approval and handover to series production support
OEM – Q-strategy, Q-concept
Creation and assurance of a quality concept for a new OEM in consideration of local and international legislations
Support of the nomination process (quality technical requirements / requirements management and potential analysis), steering and qualification of suppliers
Development of an own risk classification system, definition of submission levels of the release documentation and establishment of an own supplier cockpit for tracking and reporting purposes
OES – Improvement program
Plant-wide implementation (long-running or last minute)
Controlling and securing of improvement measures and plans at top management level
Securing the ability to award contracts and ensuring renewed Q-release by a major OEM → Leverage: Rating Process Audit (A)
De-escalation of the international OES plant in the global escalation system of the OEM

Regular audit simulations (internal/external)
Weekly reporting of an evaluation system to show the status of the entire work including delta
Management of the above-mentioned points via a top level cockpit