Blended Learning
We are your partner on the way to a successful implementation of blended learning
---
Win-win by blended learning: both your employees and your company benefit from a mix of methods in your training strategy
Benefit from a three-level blended learning process for a need-based and target group specific composition of your corporate training offer
Individual customization to your needs: learning paths allow you to distinguish between different expert levels within your team
Transformation of your pre-existing trainings into digital and interactive e-learning formats so that your employees are empowered for self-studying of learning content
---
Employee development – Sustainable. Efficient. Practice-oriented.
Many companies strive for these principles, but only few achieve them. Under the current circumstances of the VUCA world, the working context becomes more volatile, unmanaged, complex, and ambiguous. This poses new expectations for in-house training and requires innovative solutions and didactic concepts.
Blended learning is a learning concept that combines the advantages of e-learning and classroom training and generates further synergy effects
Flexible
Your employees will be further developed independent of location and time.
Cost-optimized
The customized mix of methods ensures an efficient and rational use of resources.
Target group oriented
The training program will be adapted to the needs of individual employee groups.
What we offer
Analysis and creation of learning strategies and concepts
Development and creation of learning paths
Conception and creation of web seminars
Conception and creation of web-based trainings
Organization and moderation of classroom training
Didactical and contextual preparation of training materials
Organization and implementation of workshops (practice workshop, methods toolbox)
Training offered by the Drescher Consulting Academy
Transfer of pre-existing training courses into new digital formats
Comprehensive approach: We accompany you through the entire blended learning process or take over the management of individual phases
Step 1: Analysis
The learning objective is developed, and relevant target groups and their needs are identified with the help of the Learning Design Canvas.
Step 2: Concept
Based on the results of the analysis, the target group specific learning paths are developed.
The qualification heterogeneity within individual target groups is thereby considered due to the modular structure.
Step 3: Implementation
During the final step of the process, the previously defined target group specific learning elements are created.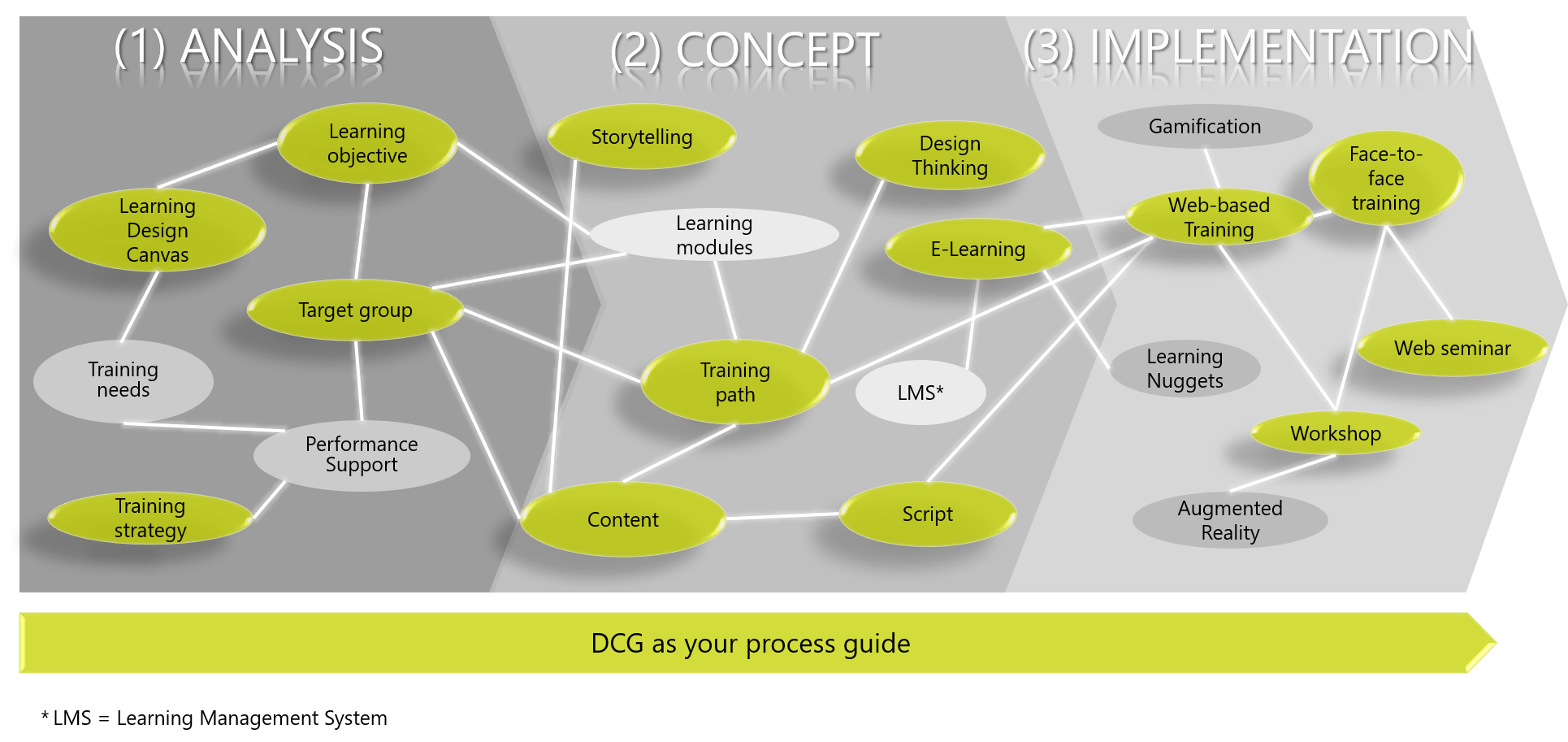 Communicate knowledge within your organization in a practice-oriented and target group specific way
A sustainable transfer of knowledge has always been an important aspect for us at Drescher Consulting. With our academy, which was originally an internal training platform, we offer a comprehensive range of trainings, not only for our own employees. We have many years of experience in the development, organization and implementation of trainings.
The linking of our key services (consulting, project management and academy) leads to synergy effects that you will benefit from. The trainings out of our academy and finished projects are convincing in the didactical creation of practice-oriented guidelines and training documents. In addition, our employees have expertise in developing and creating web-based trainings and web seminars.
The conception and implementation of practice-oriented workshops and keynote speeches are an essential part of our daily work. We therefore know how to implement your requirements for learning systems and contents quickly and customized.
Extract of our project references
Q-Qualification strategy 2025
Development of new qualification units with focus on the transfer of knowledge using digital concepts.
Training conception onboarding
Analysis of training needs for quality subjects and definition of target group specific learning paths.
Concept creation and implementation of blended learning
Development of a blended learning concept followed by the creation of web-based training and on-site events.