Strategy Execution
At Drescher Consulting, we are always expanding our range of tools and methods in order to accomplish our goals more effectively. We continuously develop and test new approaches, optimize them and subsequently transfer our knowledge to our partners and customers.
As part of our internal strategy work, our attention at Drescher Consulting was drawn to the U.S. methodology Objectives and Key Results (OKR) as well as the Japanese approach Hoshin Kanri. We were impressed by the clearly defined abstraction levels of the X-Matrix (breakthrough goals, annual goals, improvement priorities, KPIs and responsibilities) as well as the strong connection between goals and related activities. Hence, we decided to roll out our own corporate strategy a second time.
The self-experimentation began.
The transformation included an iterative process in which we introduced, reviewed, and often adjusted the new strategy elements until, in 2018, a well-established, hybrid strategy management system consisting of OKRs and Hoshin Kanri was born.
The starting point for Strategy Execution.
The key to success was the collaboration of all teams and departments during the development process. Today, everyone at Drescher Consulting knows the company's goals, from the intern to the team leader and understands how to contribute to the collective success through individual skills.
After we were able to use Strategy Execution profitably in our company, we started to lead our customers to the next level of strategy execution as well.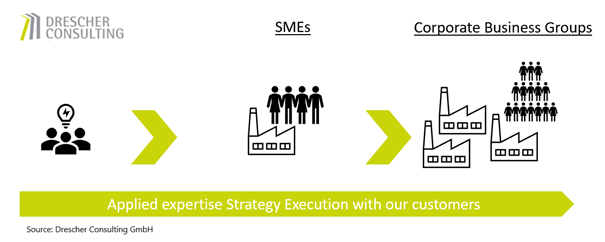 Find out how Strategy Execution is put into practice: